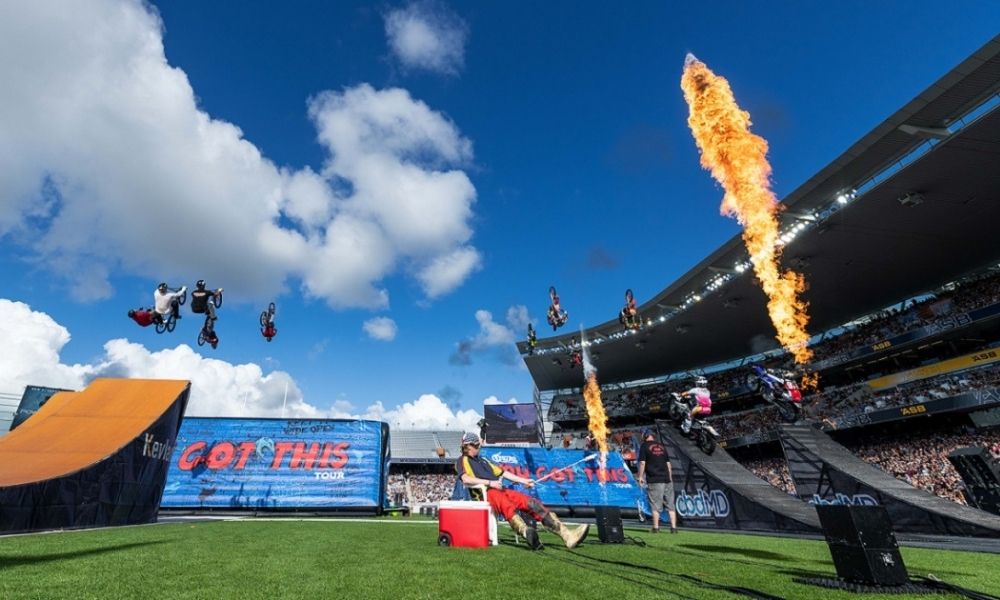 Nitro Circus will return to Tauranga's Trustpower Stadium Baypark for the first time in three years on Friday, November 25, 2022. The show is part of a 15-city outdoor stadium tour across New Zealand and Australia. The run will also launch an all-new show theme that the thrill-loving crew will then take worldwide.
Nitro Circus, a global sports entertainment leader, creates electrifying live events and unbelievable original content that at once exhilarates, captivates and inspires thrill-seeking fans worldwide. Co-founded in 2003 by iconic superstar Travis Pastrana, Nitro Circus has since grown into a multiplatform phenomenon creating spectacular live events, progressive competitions, hit television programming and innovative digital offerings. With over three million tickets sold to date, linear content that has aired in over 60 countries and a burgeoning consumer products business, Nitro Circus is at the forefront of sports and entertainment. For more information visit www.nitrocircus.com.
Nitro Circus is part of Thrill One Sports & Entertainment, a next-generation content company that lives at the nexus of sports, entertainment and lifestyle, combining the resources of Nitro Circus, Street League Skateboarding (SLS) Nitro Rallycross and Thrill One Media. A multimedia platform founded in 2020, Thrill One is dedicated to creating mind-blowing action sports events and original content, fueled by the most daring athletes, talent and brands in thrill-based entertainment. Thrill One Sports & Entertainment also boasts one of the largest aggregate social audience in action sports, with over 40 million followers across its multiple brand pages and channels.